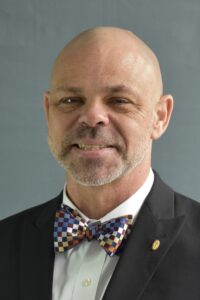 The
Rev. Benny Oakes
has been named senior pastor for Grace United Methodist Church by Bishop Leonard E. Fairley of the church's North Carolina Conference.
Previously, he had been senior pastor at First United Methodist Church in Elizabeth City.
Born in Durham, Pastor Benny grew up in Raleigh and graduated from Western Carolina University. He spent 14 years in sales and marketing for IT services, environmental consulting and software businesses before entering the ministry.
Pastor Benny said his faith grew at Apex United Methodist Church, where his wife Monica served as director of children's ministries and where he was a youth counselor, Sunday school teacher and bible studies leader.
He earned a master's degree from Duke Divinity School and is completing work on a doctorate in ministry from Duke.
He has also been a pastor at Apex United Methodist Church and the Buckhorn-Ebenezer charge in Chatham County.
Benny and Monica Oakes have four daughters; the youngest, Carter, still lives at home.
Those who have known Pastor Benny testify to his powerful preaching and his leadership skills in the community.
Pastor Benny succeeds the Rev. Tal Madison, who retired last month after spending 38 years in the United Methodist ministry and seven years at race.